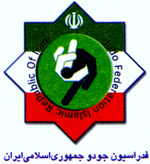 JUDO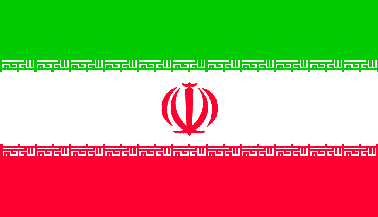 Iran : third in the World champioships 2003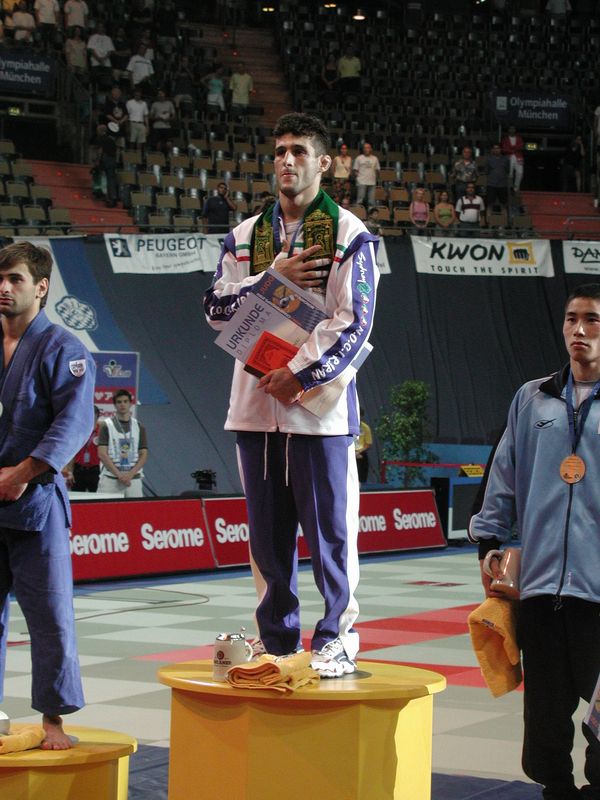 Arash MIRESMAILI became the first iranian world champion of Judo ( Munich 2001 and osaka 2003)
The biggest shock of the 2001 world championships came from Iran . in the under 66 kg final, Miresmaeli impressed all the stadium with a brilliant Ippon. He picked up his opponent with a huge Te-guruma to smash him into the mat and take the gold. Miresmaeli has come on a long way since his fifth place at the Olympics last year and also won the Asian championship earlier in the year in Mongolia.
Arash Miresmaeli, just 20-years-old, kissed the tatame after his victory as he was guaranteed Iran's best ever result.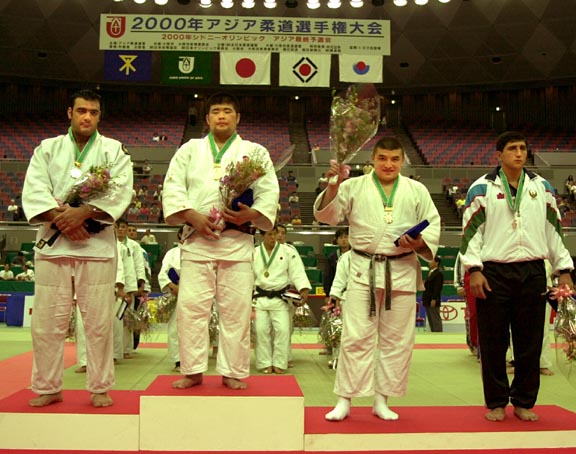 mahmud MIRAN: First Iranian Judoka to win a medal (silver) in world championships(munich 2001)
National Team :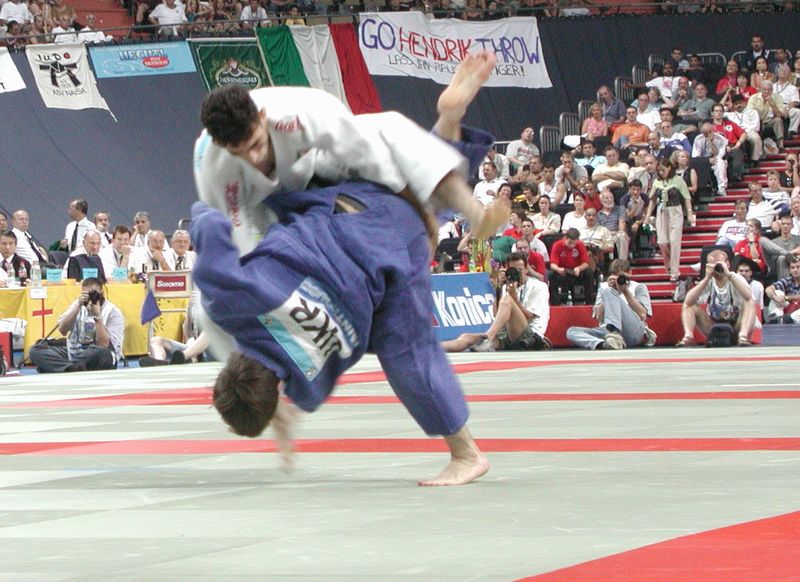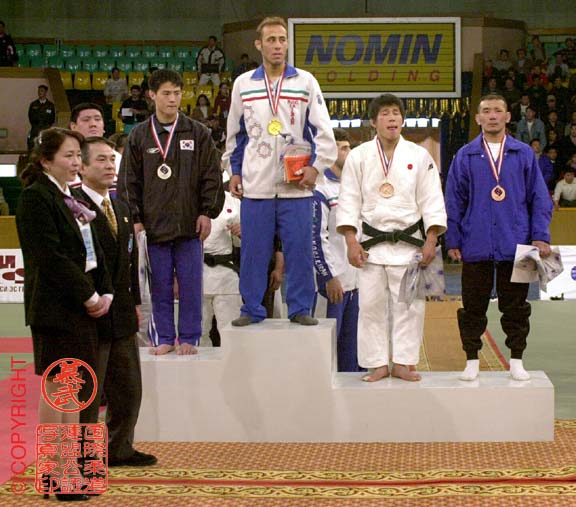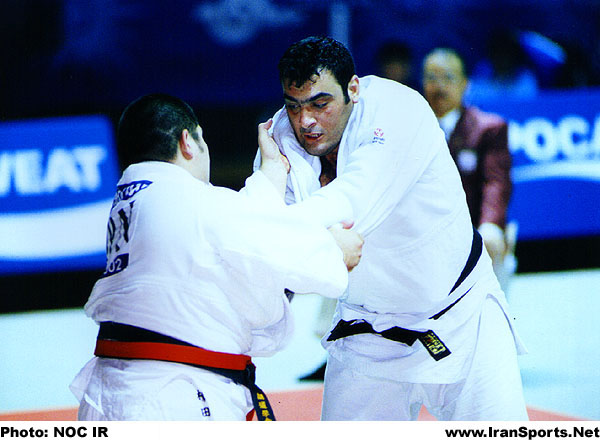 Iran emerging as a powerful force in men's judo
International judo Federation(http://www.ijf.org/htmls/main.html)
(IJF-Jeju) One noticeable development in judo hierarchy over the past couple of years has been the incredible insurgence of the Iranian men's team. The first sign of this burgeoning talent came at the 2000 Sydney Olympic Games when a 19-year-old, Arash Miresmaeili, beat Japan's former world champion Yukimasa Nakamura with a huge te-guruma for ippon in the under 66kg category.
Miresmaeili went on to fight for bronze against Italy's experienced Girolamo Giovinazzo. Although he lost, his previous act of giant-killing had alerted the world to his potential. The Iranian followed that up with silver at the Junior World Championships in Tunisia but his progress was just moving into overdrive. Less than a year later he became World Senior Champion with a convincing dismantling of Musa Nastuyev of Ukraine in the final. At just 20 years of age he had recorded Iran's best ever result at a World Championship. With Miran Fashandi winning bronze in the heavyweight category, it was a very successful tournament Iran.
Another fighter, Kazem Sarikhani, had also taken a notable scalp at the 2000 Asian Championships in Osaka when he beat Makoto Takimoto on the way to claiming the under 81kg title. Takimoto went on to become Olympic champion later that year. It was beginning to seem like this traditional wrestling power was unearthing some talented judoka as well.
After Iran's success at the 2001 Munich World Championships, it was seeded for the 2002 World Team Championship in Basel, Switzerland. And Iran lived up to its star billing with some excellent displays from its growing array of stars, led most notably by Miresmaeili, Sarikhani and Fashandi. In fact, Iran came within a whisker of winning a medal, ultimately just missing out and finishing fifth after successive 4-3 defeats to Georgia and Italy in the semi-final and bronze medal ties respectively. It could all have been so different, though, had Sarikhani not injured his collarbone in the semi-final defeat to Georgia. With Iran leading 3-0 against Italy, they had to forfeit the fourth rubber as Sarikhani, one of their best fighters on the day, could not take to the mat. Italy gathered momentum and staged a remarkable comeback to win the remaining three rubbers and the bronze medal. But Iran had already demonstrated it is a nation on the move.
Two more medals at the 2002 Junior World Championships in Jeju, Korea, proves the country is beginning to produce strength in depth. Heavyweight Mohammed Reza Roudaki won a silver medal on the opening day and Mohsen Zakaria added under 60kg bronze on the last. Both looked impressive, particularly the enormous Roudaki who in time will surely take over Fashandi's mantle as the top heavyweight in Iran and become as major a threat in the division.
The production of such junior talent proves that Iran has come a long way. Junior team coach Attaollah Abbasnejad explained why: "Our current judo programme is very good. Our fighters train hard and they have very good technique." Head coach Mohammed Riza Hajyousefzadeh has no doubts who is responsible for this sudden emergence. "Our president Mohammad Derakhshan is a very good man. He is a good person and a good judo coach. He thinks only about judo."
One of the most notable attributes of the Iranian fighters is superb physical conditioning and strength. Sarikhani, for one, is a fighter who looks small for under 81kg but seems to lift opponents effortlessly. He has some awesome pick-ups. But right throughout seniors and juniors, the Iranians seem to have that little bit more strength than anyone else. Hajyousefzadeh puts this down to the body-building system used in Iran to help fighters reach peak condition.
The balance of power is forever shifting in the judo world. Since the Soviet Union broke up, several former republics have produced some outstanding results. The men's European team final this year was contested between Belarus and Georgia - western European nations were nowhere to be seen. But now Iran is yet another increasing power in world judo. The Japanese may be reasserting themselves at the top of the pile, but the battle behind them is hotting up - and in men's judo, Iran looks likely to surge on in the coming years.
Written by Barnaby Chesterman